Rainmaker Summit
16 October, 2021 @ 1:00 am

-

18 October, 2021 @ 7:00 am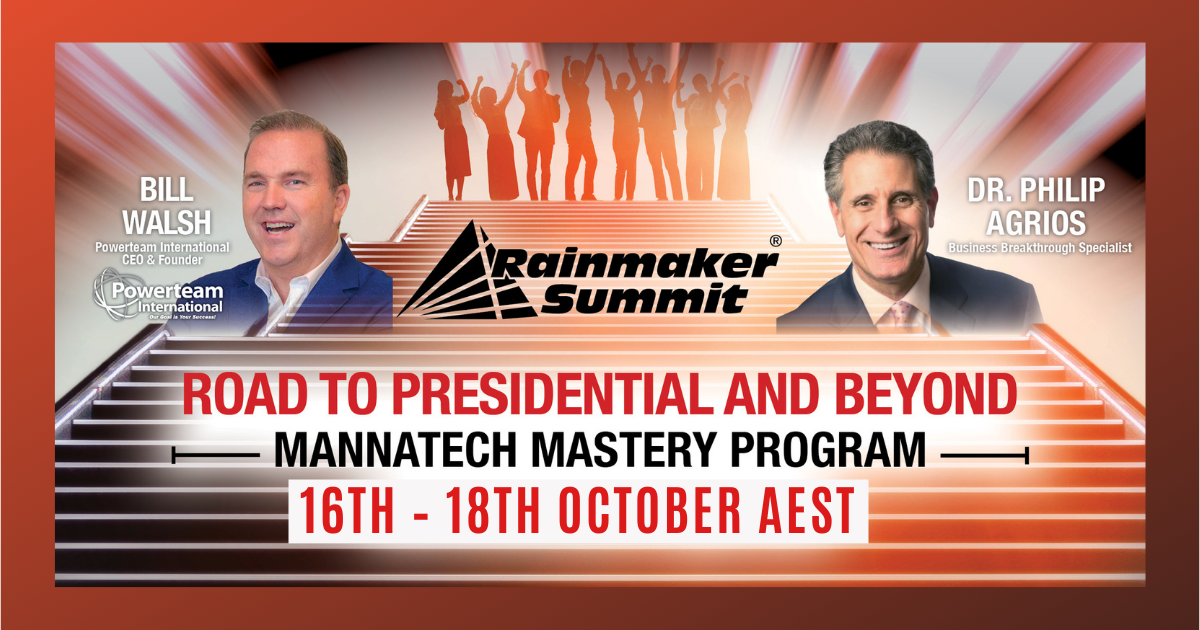 The Rainmaker Event Is Coming Back!
See Below for All the Details!
We have great news…Al Bala and Landen Fredrick have arranged for leading Business Success Coach, Bill Walsh, to bring his Rainmaker Event to ALL Mannatech Associates! But wait, it gets even better. Business Breakthrough Specialist, Dr Philip Agrios has also agreed to join this spectacular 3-day event.
Once again, Bill will use his contagious passion to guide, support, encourage, and more importantly, provide tools and strategies to help you succeed in every aspect of your business.
Dr Agrios will dive deeper into deciphering the sabotaging behaviours that block success and then teach you methods that will transform your thinking, so you can reach your fullest potential in life and in business.
Watch this week's Tuesday Business Booster Call where Regional President, Chris Simons goes into greater detail about what you can expect from this exciting event.
Register by 4th October to save your spot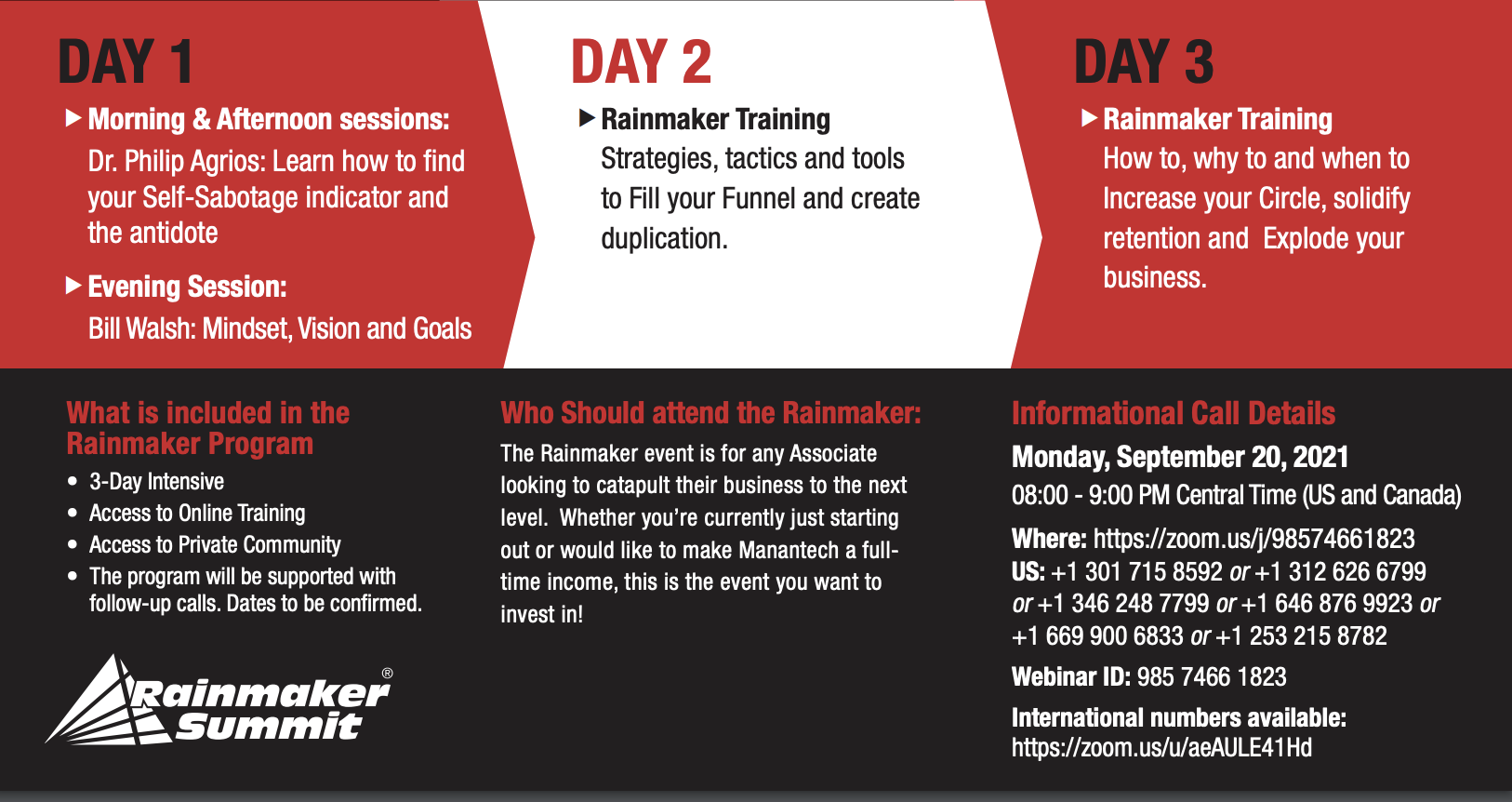 Rainmaker Event Dates:
Saturday, 16th October (the first 6 hours will include Dr Agrios)
WA/SING – from 10.00 pm Friday 15th to 10.00 am Saturday 16th
NSW/VIC/TAS – from 1.00 am to 1.00 pm
QLD – from 12.00 am to 12.00 pm
SA – from 12.30 am to 12.30 pm
NZ – from 3.00 am to 3.00 pm
Sunday, 17th October
WA/SING – from 10.00 pm Saturday 16th to 10.00 am Sunday 17th
NSW/VIC/TAS/ – from 1.00 am to 1.00 pm
QLD – from 12.00 am to 12.00 pm
SA – from 12.30 am to 12.30 pm
NZ – from 3.00 am to 3.00 pm
Monday, 18th October
WA/SING – from 10.00 pm Sunday 17th to 4.00 am Monday 18th.
NSW/VIC/TAS/ – from 1.00 am to 7.00 am
QLD – from 12.00 am to 6.00 am
SA – from 12.30 am to 6.30 am
NZ – from 3.00 am to 3.00 pm
Rainmaker Registration Details
This type of event typically costs thousands of dollars, but Mannatech will subsidize the cost and make it available to any Associate looking to create momentum and take their business to the next level. The event is being made available in-person or virtually. Registration will include 3 days of intensive training. The cost for all training materials are as follows:
Registration cost per person: USD$255  |  AUD$352  |  SGD$346  |  NZD$367
Registration cost per couple: USD$300  |  AUD$415  |  SGD$408  |  NZD$432
Attending Rainmaker Summit Virtually
The virtual event will be from the comfort of your own home and we will provide you with the live stream links as well as access to all training materials. The deadline to register for the virtual event is 4th October
Don't miss this incredible opportunity!  Click Here to Register