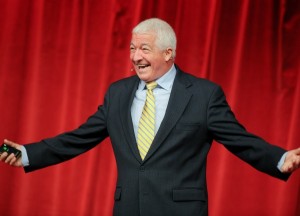 Allan Pease researches and studies the psychology of selling, relationships and human communication. He teaches simple, field-tested skills and techniques that get results. And he delivers his message in a humorous way, which motivates people to want to use these ideas immediately.
Allan's record in the field of selling, motivating and training is equalled by few others. He is a born achiever, starting his career at age 10 selling rubber sponges door to door. At 17, he was the No.1 national salesman for a company selling bed linen, pots & pans. At 21, he was the youngest person ever to sell over $1,000,000 of life insurance in his first sales year and qualify for the Million Dollar Round Table.
Allan – with co-author Barbara Pease – is one of the world's most successful non-fiction authors, writing 18 bestsellers including 10 number 1 bestsellers such as The Definitive Book of Body Language and Why Men Don't Listen and Women Can't Read Maps. His television series and #1 Box Office Movie were watched by over 100 million viewers.
Allan is a Professor at Moscow state Technical University & ULIM International University, a Fellow of the Royal Society of the Arts (UK), a Fellow of the Institute of Management, Fellow of the Lifewriters Association, a Paul Harris Fellow (UK), JCI Senator and has been inducted into the National Speakers Association Hall Of Fame.