AIM
21 November, 2020 @ 10:00 am

-

2:00 pm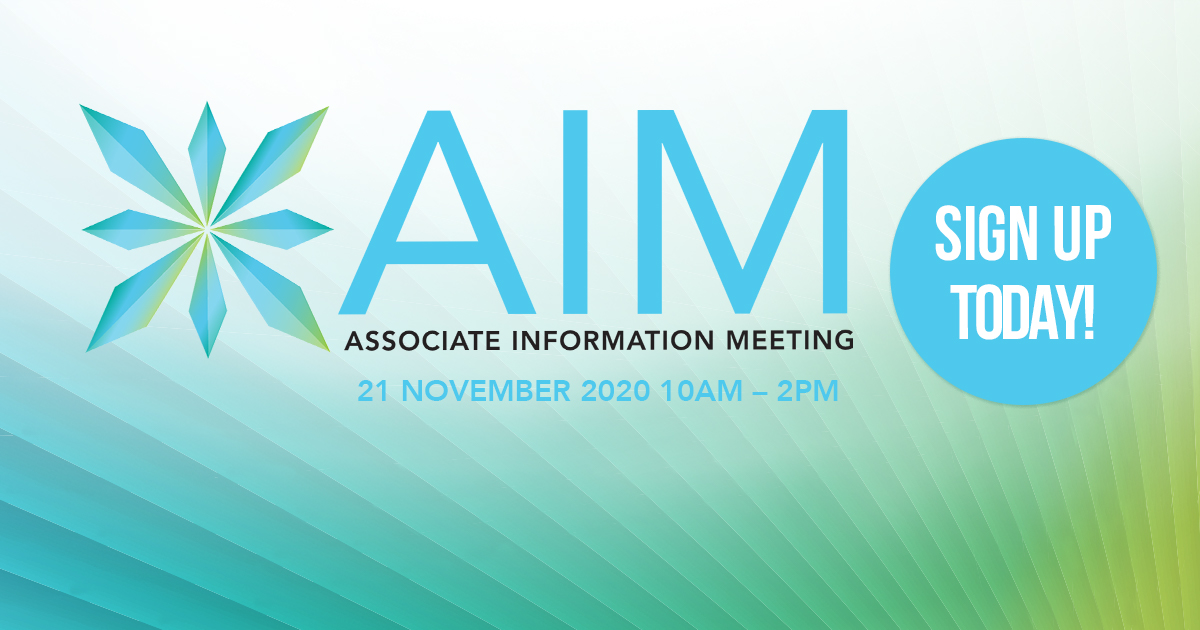 AIM is BACK!
Packed with an agenda that is bound to educate, motivate, inspire, celebrate and connect. 
It's been 6 months since our last AIM event in May, and it's time to CHECK-IN! We have continued to move forward, grown, and learn so much about staying connected and discovering new ways of doing things.
We'll celebrate YOU and all that you have accomplished in these last six months.
Hear from your Presidential Directors, how they have successfully managed to deal with change.
Let's look over the next six months and what exciting Events, Promotions and Product news we have to look forward to…
What we have in store for you
The November AIM is a virtual event, that will look back as well as ahead.
What's been happening in the last six months. What's in store for the coming six months.
The event will be full of great topics and business updates – all to help support your business for the next six months! This important information will be wrapped around laughs, fun, giveaways, and special surprises along the way.
We'll take some time to reflect on, and share with your newcomers why Mannatech stands above the rest. Our unquestionable Science and high-quality TGA Products, highlighted by the resources supporting our Patents and Research.
Connect with our Presidential Directors, speakers from the Field, Corporate and more!
We have assembled a great team of speakers, that will inspire and educate so that YOU are well equipped and motivated to look forward and continue to grow your business. From your corporate team, we are thrilled to be joined by Chris Simons, Mannatech's Regional President EMEAA, Central & South America; guest keynote speaker & favourite from our 2018 Australasian Conference, Michael McQueen, and last but certainly not least, Dr Steve Nugent, Chief Science & Health Officer and Chairman of the Global Scientific Advisory Board
From the Field, you will hear from a mix of Presidential Directors and other Field Leaders.
Topics for the day are, but not limited to:
Combining products & how they work
New promotions & product updates
Setting your sights on success
The science behind Mannatech's products
Investing in yourself and your business
M5M Foundation… with a difference
Our joint passion for the M5M Foundation will bring us together again BUT this time, with a difference.
Date: Saturday 21st November 2020
Time: 10.00 am – 2.00 pm (Sydney time)
Venue: 'Virtual'
Registration Fee:  $10
Host: Jenny Messenger, Executive Director
We look forward to seeing you online!